Inventory Tracking (Electronic Data Collection System)
The revolutionary, battery free, read/write electronic data storage device, the Electronic Position Indicator (EPI).
In compliance with the API 570, 5.6.3 regulation, this new system allows you to eliminate human error and excessive labor costs by integrating a user friendly asset tracking device into your existing inspection program.
Using the EPI system, your existing UT Meters and current database, you are able to track:
. Equipment Circuit ID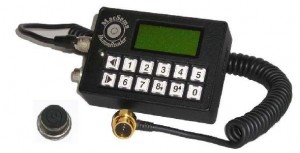 . CML (TML) Number
. Current UT Reading
. Previous UT Reading
. Min & Max Thickness
. Integrated GPS Location
. Time & Date Stamp
. Material Type
. Field Notes
These are only some of the 22 fields that the EPI is capable of storing.
Readings may be taken without pre-loading the D-meter and may be taken in ANY sequence. When finished, you securely update your database via the download cradle. This eliminates any transposition errors and allows SAME DAY ACCESS to your most current data.
The EPI offers the potential to improve productivity by eliminating and/or reducing the time and inconvenience associated with first having to access a central database. Data stored on each EPI is retrieved by momentary contact of the EPI Reader and can be viewed and updated ONSITE.
Never compromise the integrity of the database.
. No more downloading files to a D-Meter, and then having the TML location misinterpreted, thus risking the integrity of the data due to human error.
. The EPI Reader can be used as a directional finder to locate the EPI in the field providing labor efficiency for faster field work or pre-turnaround operations.
. EPI Locators and Readers have a unique security code specific to each facility.
. Reduced labor cost and increased productivity.
For more information please select the link below to download the product specification brochure.